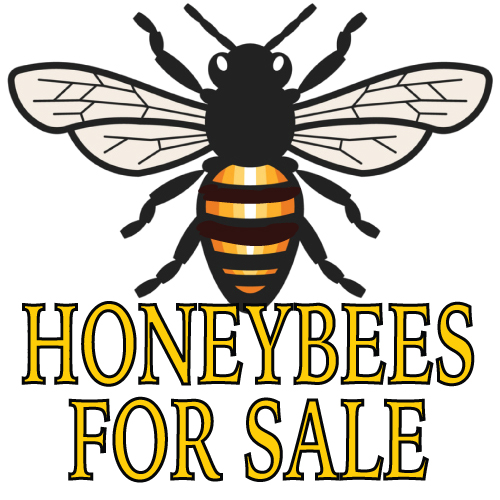 Honeybees for sale by beekeepers in Lincolnshire UK
Beekeepers: if you have bees you would like to sell in this site please email me honeybeesforsale@gmail.com
---
New for 2022
---
---
26/06/2022
4 spring nucs for sale.
All have new 2022 open mated Carniolan queens and are building up nicely.
They are on 6 National frames and have eggs, larvae and capped brood in a six frame Correx travelling box.
£195 each one (£20 in adavance £175 on collection).
Grantham. Can deliver within a twenty mile radius for £10 or buyers can collect.
Please email me Patrick Laslett
honeybeesforsale@gmail.com
Please note I am the webmaster - not the owner of the bees

---
---
07/05/2022
Honeybees for sale in North Lincolnshire
National Nucs
2 x 5 frames, 2022 Queens with brood in all stages., locally mated, can be marked if required.
supplied in Corex reusable Nuc/travelling box.
Collect North Lincolnshire. DN16.
Free local delivery.
£160 (£20 in advance £140 on delivery)

---
Commercial Nucs
5 frames, brood in all stages.
2021 queens
Own Nuc/traveling box required.
Collect North Lincolnshire. DN16.
Free local delivery.
£170 (£20 in advance £150 on collection)
Please email me Patrick Laslett
honeybeesforsale@gmail.com
Please note I am the webmaster - not the owner of the bees

---
---
20 Overwintered Nucs with a 2021 marked Carniolan queens. National 6 frames with bees, brood and stores Varroa treated 31st December. £215 (£20 in advance £195 on collection) in poly nuc or £195 in 6 frame Correx box (£20 in advance £175 on collection) Can be delivered up to a 40 mile radius of Grantham for £10 or by Royal Mail Special delivery for £26.75 Next day before 1pm.
Can also be collected if more convenient.

Click here for my payment details.
---
---
Honeybees for sale in Lincolnshire

2021 2 x 6 frame nucs 2, 6 frame nucs for sale, they are bursting & well ready for hives. Local mated 2021 queens, not marked but I could, and I could deliver locally. Also one used National wooden hive with frames, foundation etc  if someone wants complete set-up. Nucs to return £170 (£20 in advance, £150 on collection) Hive £165. (£25 in advance, £140 on collection) Collect North Lincolnshire. DN20 Please email me Patrick Laslett honeybeeforsale@gmail.com Please note I am the owner of the website not the owner of the bees

2021 5 and 6 frame nucs 5 frame ply nuc £170 (£20 in advance £150 on collection) 6 frame poly nuc £220 (£20 in advance £200 on collection) Collect PE22 Please email me Patrick Laslett honeybeeforsale@gmail.com Please note I am the owner of the website not the owner of the bees

2021 5 frame National Nuc 5 frame National Nuc with brood at all stages and with plenty of stores. 2021 queen - can be marked and clipped if required. Supplied in a reusable Correx travel box Collection from near Scunthorpe, North Lincolnshire. £185 (£20 in advance £165 on collection) Please email me Patrick Laslett honeybeeforsale@gmail.com Please note I am the owner of the website not the owner of the bees

2021 WBC colonies 2 WBC complete hives £425. Each (£25 in advance £400 on collection) One on double brood complete with a super. Second one single brood with two supers. Sale due to moving location. Collect Gainsborough Please email me Patrick Laslett honeybeeforsale@gmail.com Please note I am the owner of the website not the owner of the bees

2021 Two overwintered  6 frame nucs. National frames.  Brood at all stages with a 2020 Carniolan queen in each.  Nice Temperament. £195 each (£20 in advance £175 on collection) Collect Grantham Please email me Patrick Laslett honeybeeforsale@gmail.com Please note I am the owner of the website not the owner of the bees

2021 Two overwintered six frame Nucs SOLD Two overwintered six frame Nucs.  2020 Carniolan queens on National frames. Good amount of bees with eggs and brood in all stages. Sold in a new poly nuc. Varroa treatment - Apivar in August 2020 Apivar in January 2021 Apistan in April 2021 £215 each Nuc. (£20 in advance £195 on collection) Collect Grantham Lincolnshire. Please email me Patrick Laslett honeybeeforsale@gmail.com Please note I am the owner of the website not the owner of the bees

2021 6 X overwintered Nucs 
 6 X overwintered Nucs with marked 2020 Buckfast queens on National frames DN4 Hoffman These Nucs had an Oxalic acid vape treatment in December. They are showing signs of being strong colony's already. All Nuc's will have at least one frame of stores and the rest will be brood in all stages.
 These will be ready Mid April to beginning of May Supplied in a 5 frame correx travel box collection welcome or can post postage to be paid by the buyer.
 Price is £240 plus postage.(£20 in advance £220 on collection - please note some beekeepers also require a deposit) Collect Gainsborough Lincolnshire.
 Please email me Patrick Laslett honeybeeforsale@gmail.com Please note I am the owner of the website not the owner of the bees

2020 Six 14x12 colonies in hives 14" x 12" standard national hive 2020 Queen - Marked Blue Gentle nature Open mesh floor with entrance block Queen excluder Crownboard with Porter bee escapes Galvanised roof All hives are glued, nailed and are built square and have been treated. All brood boxes have 2 supers with new foundation on 10 space castleations. Hive 1 is brand new built this year, all other hives were built in 2019 when i converted over to 14 x 12 from nationals. All supers are either 2018 or 2019 built. Hive 1. Brand new 2020 hive has 4 full frames of eggs, larvae and sealed brood,the other 7 frames are drawn wax. Hive 2. Has 7 full frames of eggs, larvae and sealed brood,the other 4 frames are drawn wax. Hive 3. Has 7 full frames of eggs, larvae and sealed brood,the other 4 frames are drawn wax. Hive 4. Has 5 full frames of eggs, larvae and sealed brood,the other 6 frames are drawn wax. Hive 5. Has 5 full frames of eggs, larvae and sealed brood,the other 6 frames are drawn wax. Hive 6. Has 11 full frames of eggs, larvae and sealed brood. I'm asking £425 per hive, 2 supers and colonies. (£25 in advance £400 on collection) No offers. Currently all colonies have not yet been autumn treated for Varroa, however I will be treating them in the next few weeks. I can treat before pick up if required? Collect near Lincoln. Please email me Patrick Laslett honeybeesforsale@gmail.com (please note: I'm the webmaster not the owner of the bees)

2020 Two hives with bees. One National. One 14x12. Brand New 14" x 12" Standard National Hive 2020 Queen Marked Blue Good Temperament 4 full frames of eggs, larvae and sealed brood, 7 frames drawn wax Open mesh floor, crownboard with porter bee escapes, queen excluder. 2 supers with new wax foundation. £425 (£25 in advance £400 on collection) No offers 14" x 12" Standard National Hive 2020 Queen, marked blue. Good temperament 7 frames of eggs, larvae and sealed brood, 4 frames drawn wax Open mesh floor, crownboard with porter bee escapes, queen excluder and 2 supers with drawn wax on 10 space castleations. £425 (£25 in advance £400 on collection) No offers Collect Lincoln Please email me Patrick Laslett honeybeesforsale@gmail.com (please note: I'm the webmaster not the owner of the bees)

2020 5 frame Commercial Nuc for sale On Commercial 16 X 10 frames Brood at all stages with plenty of stores. Headed by 2020 queens which will be marked. Collection from Scunthorpe, Lincolnshire. Own nuc box required £210 (£20 in advance £190 on collection) Please email me Patrick Laslett honeybeesforsale@gmail.com (please note: I'm the webmaster not the owner of the bees)

2020 5 frame National Nuc's 5 frame National Nuc's brood at all stages with plenty of stores. Headed by this years Buckfast queens which are marked accordingly. Supplied in a correx travel box Collection from Gainsborough Lincolnshire. £220 (£20 in advance £200 on collection) Please email me Patrick Laslett honeybeesforsale@gmail.com (please note: I'm the webmaster not the owner of the bees)

2019 3 five frame Nucs 3 five frame Nucs for sale, eggs, larvae, capped brood and stores in Corex box. Good natured bees. £140 each Nuc. (£20 in advance £120 on collection) Grantham area. Please email me Patrick Laslett honeybeesforsale@gmail.com (please note: I'm the webmaster not the owner of the bees)

2019 Lovely set up of bees for sale Lovely set up of bees for sale that are now in desperate need of a hive. Poly Nuc Queen Excluder Super Feeder The bees are on six frames with capped brood on three frames both sides Eggs and Larvae on two frames One frame of stores Super with six frames that are filling quickly two are almost ready to spin The queen is 2019 but unfortunately I have not yet located her after three times going through the brood, but I will continue to try and mark her. Would also do well as a double brood A really lovely little hive £270 very gentle bees that need a good home asap. (£25 in advance £245 on collection) Lincolnshire area Please email me Patrick Laslett honeybeesforsale@gmail.com (please note: I'm the webmaster not the owner of the bees)

2019 2 x overwintered nucs 2 x overwintered six framed nucs, eggs larvae and brood 2018 queen (red) in new waxed cardboard nuc.  Varroa treated in March with Apistan. £180 each (£20 in advance £160 on collection) Grantham area. Please email me Patrick Laslett honeybeesforsale@gmail.com (please note: I'm the webmaster not the owner of the bees)

2018 2 Colonies in Polystyrene Hives (commercial) for sale, North Lincolnshire The h ives are one year old, and comprise of  varroa floor, entrance block, brood box, 3 supers, queen excluder, crown board, entrance block, hive strap. The colonies are headed by this years queens. £300 (£25 in advance £275 on collection) Nucleus of honeybees (national) for sale, North Lincolnshire 5 frame Nuc - own traveling box needed. £170 (£20 in advance £150 on collection) Collect North Lincolnshire Please email me Patrick Laslett honeybeesforsale@gmail.com (please note: I'm the webmaster not the owner of the bees)

2017 2 New Poly Nuc boxes South of Lincoln. 2 x New Poly Nuc boxes containing swams collected in June, Lincolnshire, south of Lincoln.   They have built up nicely and have been fed regularly but not varroa treated, ready now for full hive to allow them to overwinter.   £170 each (£20 in advance £150 on collection) Please email me Patrick Laslett at honeybeesforsale@gmail.com (please note: I'm the webmaster not the owner of the bees)

2017 Nuc in new polybox Grantham Lincolnshire A lovely strong Nuc. Bees on 6 frames, quiet temperament. Eggs, larvae and brood. This years queen in a new Paynes Nuc box. These bees are now in desperate need of a brood box. £165.00 (£20.00 in advance £145 on collection) Collect Grantham Lincolnshire Please email me Patrick Laslett honeybeesforsale@gmail.com

2017 Three colonies for sale. SOLD 2 x National hives, made up of a stand, floor, large (14"x12") brood box, wire QE, 2 supers, crown board, roof. All boxes are full of frames, and at the moment each hive has one super with honey. The bees in these hives were swarms taken last year and overwintered by another beekeeper locally.   These two hives are on custom built stand giving a good working height. 
1 x National hive, made up of, floor, standard brood box, wire QE, 1 super with comb, 1 super giving space for a feeder, crown board, roof. This is a swarm I collected locally in May and on being offered a hive decided to stay !  They are presently a smallish colony taking up about half the box, queen is laying well and I am feeding ambrosia syrup.   None of the queens are marked.
 The hives are all cedar wood and to my eye look in good condition. One of the large brood boxes has a warped side panel but no gaps.
 Additionally:   1 x floor, standard brood box, 2 x supers and a lid. Plastic QE. 1 x Thornes 10 frames SN1 and comb. 1 x Frame feeder. Ambrosia Nectar. Tools   I want to sell all of this as one lot for which the bargain price would be £700 (£50 in advance £650 cash on pick up). I don't want to split it but I am sure that a buyer could sell bits on. Please email me Patrick Laslett honeybeesforsale@gmail.com  (please note: I'm the webmaster not the owner)

2017 Three hives and equipment for sale Lincolnshire I have 3 in No 14x12 National Cedar hives / colonies for sale, having to give up beekeeping. Hives have been overwintered, last Varroa treatment – Sept 2016 with Api Life Var and with Api-Bioxal early Jan 2017. Last inspected 06 April and are building up nicely. One colony already laying across 9 frames and has 2 supers being filled with OSR. Other 2 are laying across 5-6 frames and 1st super added. Queens are Danish Buckfast. Gentle / calm to handle and very good foragers. Each hive / colony will consist of: 2016 marked (White) Queen x1 Brood Box (metal side runners) x1 Varroa Open Metal Mesh Floor with plastic debris tray x1 Entrance Block Brood box with brood on 14x12 Hoffman spaced frames x1 14x12 Dummy Board x1Wire queen excluder in wooden frame x1 Crown Board x1 roof (flat galvanised) x2 supers (10 space castellation) complete with drawn or fresh foundation and whatever honey is in at time of collection. All parts are cedar and in good condition. Price per hive/colony - £300 (£25 in advance £275.00 on pick up) Buyer is responsible for collection / transportation. Please email me Patrick Laslett honeybeesforsale@gmail.com (please note: I'm the webmaster not the owner)

2016 10 nucs Lincolnshire I have for sale ten nucs on 6 dn4 frames in plywood box. 2016 unmarked queen. The price £200 each with the box. (£20 in advance £180 on collection) Pick up Grantham, Lincolnshire Please email me Patrick Laslett plaslett@gmail.com (please note: I'm the webmaster not the owner)

2015 One strong nuc for sale with 2015 queen Five frame nuc with 2015 queen. Thornes deep national frames (DN4s) made up with premium foundation £125 (£20 deposit in advance £105 on collection). Price is for five frames with bees (nuc box not supplied and bees will be transferred to buyers hive on collection/ delivery) Please email me for my deposit payment options patrick@laslett.com (Webmaster)

2015 Two nucs one colony North Lincolnshire SOLD Two very strong nucs for sale with 2015 queens and would like £105 for each. Both are five frame nucs with 2015 queen. Price is for five frames with bees (nuc hive not supplied and bees will be transferred to buyers hive on collection/ delivery) They are both Thornes deep national frames (DN4s) made up with premium foundation. I also have just one full colony for sale, which requires the addition of a super for a late honey crop. They are very strong and again are Thornes DN4s with premium foundation. Frames will need transferring to buyers own empty national hive and would like £180 for them. I can deliver for £30 within a 50 mile radius of Brigg North Lincolnshire. Please email me for my deposit payment options patrick@laslett.com

2015 Two nucs one colony North Lincolnshire SOLD Two very strong nucs for sale with 2015 queens and would like £140 (£20 deposit in advance £120 on collection) for each. Both are five frame nucs with 2015 queen. Price is for five frames with bees (nuc hive not supplied and bees will be transferred to buyers hive on collection/ delivery) They are both Thornes deep national frames (DN4s) made up with premium foundation. I also have just one full colony for sale, which requires the addition of a super for a late honey crop. They are very strong and again are Thornes DN4s with premium foundation. Frames will need transferring to buyers own empty national hive and would like £225 for them. (£25 deposit in advance £200 on collection) I can deliver for £30 within a 50 mile radius of Brigg North Lincolnshire. Please email me for my deposit payment options patrick@laslett.com

2015 Nuc for sale with a 2015 queen I would like 150 for it (£20 deposit in advance £130 on pick up). It's a five frame nuc with 2015 queen. Price is for five frames with bees nuc hive not supplied and bees will be transferred to buyers hive on collection. They are Thornes deep national frames (DN4s) made up with premium foundation. I also have a full colony very strong for sale again on Thornes DN4s with premium foundation. Frames will need transferring to buyers own empty national hive and would like £235 for them. (£25 deposit in advance £210 on pickup) Please email me for my deposit payment options patrick@laslett.com (Webmaster)

2015 North Lincolnshire 1 nuc and 1 colony SOLD I have another Nuc for sale with a 2015 queen and would like 170 for it (£20 deposit in advance £150 on pick up). It's a five frame nuc with 2015 queen. Price is for five frames with bees nuc hive not supplied and bees will be transferred to buyers hive on collection. They are Thornes deep national frames (DN4s) made up with premium foundation. I also have a full colony very strong for sale again on Thornes DN4s with premium foundation. Frames will need transferring to buyers own empty national hive and would like £255 for them. (£25 deposit £230 on pickup) Please email me for my deposit payment options patrick@laslett.com (Webmaster)

2015 Three 6 frame Nucs for sale with 2015 queens. Queens laying well on BS National frames.   £170 each, (£20 deposit in advance £150 on collection) £20 refund if nuc box is returned or not required.   We are located in North Lincolnshire very easily accessible to Doncaster, Scunthorpe, Goole, Gainsborough and surrounding areas.

2014 one colony and one nuc - North Lincolnshire I am keen to sell two final colonies one full one for £215 (£25 deposit in advance £190 on collection) with 2014 queen and one nuc for £120 (£20 deposit in advance £100 on collection) with 2014 queen. All on Thornes DN4 frames and buyers will need to bring empty hives and bees will be transferred upon collection. For deposit payment options please email me patrick@laslett.com (Webmaster)

2014 4 large colonies in Lincolnshire 12/7/2014 Four beehives. double brood boxes with one super. special floor. Q excl. Cover board. Hives £275.00 (£25 deposit in advance £250 on collection) Varroa treated at Christmas time before splitting. Collect - Lincolnshire. Please email me patrick@laslett.com for deposit payment options

2014 I currently have two very strong nucs for sale. At a cost of £150 each. (£20 deposit in advance £130 on collection) They are five frame nucs on Thornes DN4 frames They are collection only from North Lincolnshire near Scunthorpe. They have 2013 Queens and are very nice to handle Upon collection (evening time only) frames and bees will be transferred to the Buyers hive or nuc box. Bees are from own stock, colonies split earlier this year. For deposit payment details please email me patrick@laslett.com

2014 5 frames nucs with 2014 queens I have 6 x 5 frame National nucs all with this years marked queens. In "corex" nuc boxes.   They are available for collection in Nth Lincs / E Yorks Area.   £185 each (£20 deposit in advance, £165 on collection) Please email me patrick@laslett.com (Webmaster) for my deposit payment details

2/9/2013 Full working colonies on frames, or in brand new hives. On frames £195, in a brand new cedar hive £280. There is a £20 deposit to paid in advance online (the remainder to pay on pick up) - please email patrick@laslett.com for payment details.

8/8/2013 £100 per colony without the hive. The bee keeper writes; "Some colony's are from nucs I have made up this year as part of swarm control and some are just full colony's. The Queens I tend to breed are very prolific and don't manage to well in nationals so I use some brood and half and some commercials the bees that are for sale are all on BS Deep." There is a £15 deposit to paid in advance online (£85 to pay on pick up) - please email patrick@laslett.com for payment details. Colonies (£270) and nucs (£190) offered - pick up Boston Email patrick@laslett.com
---
---
Buyers: please check the pages below to see if there are bees for sale near you. If you can't find the bees you are looking for in these pages please email me honeybeesforsale@gmail.com
Honeybees for sale in Bedfordshire
Honeybees for sale in Birmingham
Honeybees for sale in Bolton
Honeybees for sale in Bristol
Honeybees for sale in Buckingham
Honeybees for sale in Cambridge
Honeybees for sale in Cheshire
Honeybees for sale in Cleveland
Honeybees for sale in Co Antrim
Honeybees for sale in Cornwall
Honeybees for sale in Coventry
Honeybees for sale in Cumbria
Honeybees for sale in Derbyshire
Honeybees for sale in Devon
Honeybees for sale in Dorset
Honeybees for sale in Essex
Honeybees for sale in Exmore
Honeybees for sale in Gloucester
Honeybees for sale in Hampshire
Honeybees for sale in Herefordshire
Honeybees for sale in Hertfordshire
Honeybees for sale in Huddersfield
Honeybees for sale in Kent
Honeybees for sale in Lancashshire
Honeybees for sale in Leeds
Honeybees for sale in Leicestershire
Honeybees for sale in Lincolnshire
Honeybees for sale in Liverpool
Honeybees for sale in Manchester
Honeybees for sale in Mersyside
Honeybees for sale in Mid Wales
Honeybees for sale in Middlesex
Honeybees for sale in Milton Keynes
Honeybees for sale in North Yorkshire
Honeybees for sale in Newcastle
Honeybees for sale in Norfolk
Honeybees for sale in North Wales
Honeybees for sale in Northamptonshire
Honeybees for sale in Northumberland
Honeybees for sale in Northumbria
Honeybees for sale in Nottinghamshire
Honeybees for sale in Oxfordshire
Honeybees for sale in Plymouth
Honeybees for sale in Scotland
Honeybees for sale in Scunthorpe
Honeybees for sale in Sheffield
Honeybees for sale in Shrewsbury
Honeybees for sale in Shropshire<
Honeybees for sale in Solihull
Honeybees for sale in Somerset
Honeybees for sale in Staffordshire
Honeybees for sale in Suffolk
Honeybees for sale in Sunderland
Honeybees for sale in Surry
Honeybees for sale in Sussex
Honeybees for sale in The Wirral
Honeybees for sale in Tyne & Wear
Honeybees for sale in Tyne Tees
Honeybees for sale in Wales
Honeybees for sale in Warwickshire
Honeybees for sale in Wiltshire
Honeybees for sale in Wisbech
Honeybees for sale in Worcestershire
Honeybees for sale in Yorkshire
Honeybees for sale in The West Midlands
Honeybees for sale in Yarn On Tees

Buyers: if you can't find the bees you are looking for in these pages please email me honeybeesforsale@gmail.com