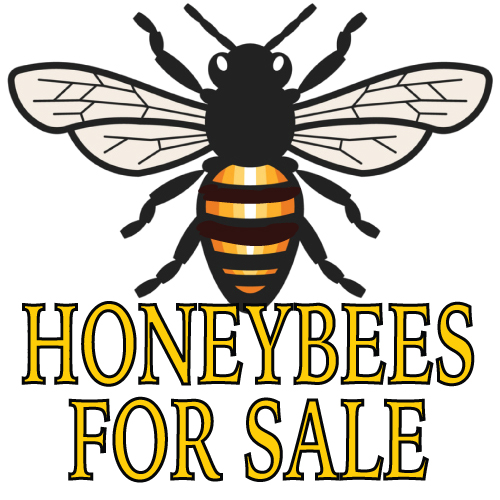 Honeybees for sale by beekeepers Bedfordshire
Beekeepers: if you have bees you would like to sell in this site please email me honeybeesforsale@gmail.com
---
New for 2022
---
---
For collection this year.

26/01/2022
3 full colonies of 10 framed overwintered bees on langstroth frames, last years Queen treated for vahroa in the autmn. and will be ready to go early spring. £250 each (£25 in advance £225 on collection).
Collection from mid Bedfordshire.
Please email me Patrick Laslett honeybeesforsale@gmail.com
Please note I am the webmaster - not the owner of the bees
Click here for my payment details.


---
---
---
Honeybees for sale in Bedfordshire
2019 6 frame nucs 6 frame nucs of locally mated Bedfordshire bees, headed by 2019 queens bred from my own stock, selected for their productivity. Collection ONLY. I would like £150 (£20 in advance £130 on collection). Near Peterborough.

2019 Over wintered nucs in polnuc boxes Bedfordshire £200 (£20 in advance £180 on collection)

2017 6 frame Buckfast nucs with 2017 queens available £140 each if supplied in a travelling box (waxed cardboard, suitable for reuse in swarm collecting) or £170 in a poly nuc. (£20 in advance the remainder on collection). Local delivery £20

2017 2 overwintered Buckfast nucs SOLD I have 2 overwintered Buckfast nucs (2016 queens, marked not clipped) in Maisemore poly nucs (6 DN4 frames, top feeder, rather than side). They are expanding very rapidly - brood on 4 frames at last inspection. Treated for varroa in December via OAV. No history of notifiable diseases in the apiary, and not in the surrounding area for at least the previous 5 years. I would like £180 for each of the nucs including the box, (£20 in advance £160 on collection) but will give a £30 discount for anyone collecting them in their own box. I will have 2017 nucs and queens available later in the year. BOOK EARLY! Please email me Patrick Laslett honeybeesforsale@gmail.com

2015 National colony Bedfordshire I'd like to sell a colony on 7/8 British Standard frames. Frames only. Buyer to transfer to own hive on collection. Price: £200 (£25 deposit in advance £175 on collection) Location: Bedfordshire Please email me for my deposit payment options patrick@laslett.com

2014 Colonies for sale posted 11/5/04 I have numerous stocks which I am willing to sell. need to reduce stocks owing to concerns of neighbours! National floor, brood body, crown board, roof, and bees £175 - Bargin. (£25 deposit in advance £150 on pick up) Regularly Defra inspected, All have been varroa treated, queens clipped and marked (Mostly Carnica/carnolian). Hives including queen excluder and super £205 - equally a good buy. (£25 deposit in advance £150 on pick up)


Buyers: please check the pages below to see if there are bees for sale near you. If you can't find the bees you are looking for in these pages please email me honeybeesforsale@gmail.com
Honeybees for sale in Bedfordshire
Honeybees for sale in Birmingham
Honeybees for sale in Bolton
Honeybees for sale in Bristol
Honeybees for sale in Buckingham
Honeybees for sale in Cambridge
Honeybees for sale in Cheshire
Honeybees for sale in Cleveland
Honeybees for sale in Co Antrim
Honeybees for sale in Cornwall
Honeybees for sale in Coventry
Honeybees for sale in Cumbria
Honeybees for sale in Derbyshire
Honeybees for sale in Devon
Honeybees for sale in Dorset
Honeybees for sale in Essex
Honeybees for sale in Exmore
Honeybees for sale in Gloucester
Honeybees for sale in Hampshire
Honeybees for sale in Herefordshire
Honeybees for sale in Hertfordshire
Honeybees for sale in Huddersfield
Honeybees for sale in Lancashshire
Honeybees for sale in Leeds
Honeybees for sale in Leicestershire
Honeybees for sale in Lincolnshire
Honeybees for sale in Liverpool
Honeybees for sale in Manchester
Honeybees for sale in Mersyside
Honeybees for sale in Mid Wales
Honeybees for sale in Middlesex
Honeybees for sale in Milton Keynes
Honeybees for sale in North Yorkshire
Honeybees for sale in Newcastle
Honeybees for sale in Norfolk
Honeybees for sale in North Wales
Honeybees for sale in Northamptonshire
Honeybees for sale in Northumberland
Honeybees for sale in Northumbria
Honeybees for sale in Nottinghamshire
Honeybees for sale in Oxfordshire
Honeybees for sale in Plymouth
Honeybees for sale in Scotland
Honeybees for sale in Scunthorpe
Honeybees for sale in Sheffield
Honeybees for sale in Shrewsbury
Honeybees for sale in Shropshire<
Honeybees for sale in Solihull
Honeybees for sale in Somerset
Honeybees for sale in Staffordshire
Honeybees for sale in Suffolk
Honeybees for sale in Sunderland
Honeybees for sale in Surry
Honeybees for sale in Sussex
Honeybees for sale in The Wirral
Honeybees for sale in Tyne & Wear
Honeybees for sale in Tyne Tees
Honeybees for sale in Wales
Honeybees for sale in Warwickshire
Honeybees for sale in Wiltshire
Honeybees for sale in Wisbech
Honeybees for sale in Worcestershire
Honeybees for sale in Yorkshire
Honeybees for sale in The West Midlands
Honeybees for sale in Yarn On Tees

Buyers: if you can't find the bees you are looking for in
these pages please email me honeybeesforsale@gmail.com